Seattle Group Travel Guide for History Buffs
Seattle has plenty for history buffs to see. Whether you're traveling with a private tour group or for a school field trip, there are landmarks and museums to quench your thirst for knowledge. Seattle Charter Bus Company offers bus rentals across the Seattle metro area for a variety of group trips. Craft an itinerary of some cool historic spots in Seattle and leave how your group will get there up to the Seattle Charter Bus Company team.
A Seattle Charter Bus Company rental rep will be available around the clock at (206) 257-3880 to get you a free, personalized quote for your history tour. If you're not sure the best type of vehicle will suit your group best—no worries! We'll help you pick whether a minibus or charter bus rental is best suited for your needs. And if you need help figuring out what to add to your itinerary, we've still got you covered. Keep reading to learn more about a few of Seattle's historic landmarks and museums to add to your trip schedule.
Seattle Historic Landmarks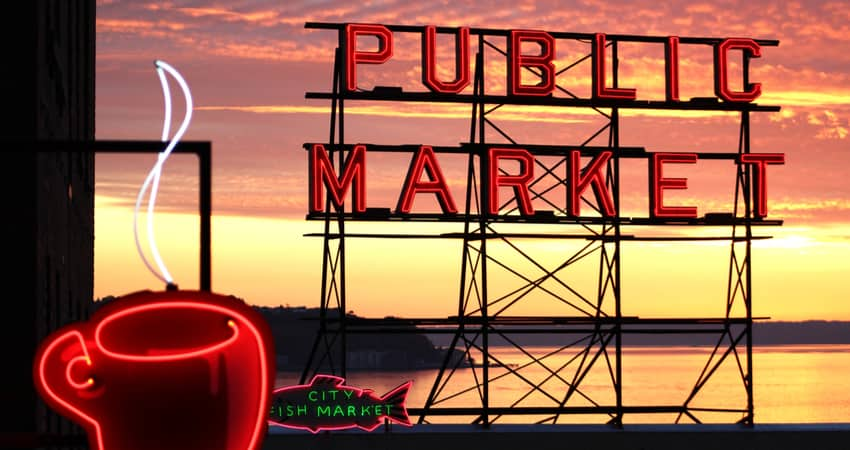 Pike Place Market
Address: 85 Pike St, Seattle, WA 98101
Phone: (206) 682-7453
This famous public market opened in 1907 and is the oldest continuously-operating farmers' market in the country. Pike Place Market is a popular tourist attraction and also a piece of local history. Check out where Starbucks got its start, browse the gorgeous flower stalls, and grab fresh food from local vendors.
Group travel tip: Private group tours of the market can be organized with third-party operators for groups that want to get in-depth knowledge about the market's history and food.
Charter bus rental parking tip: Most parking around the markets is located in public garages that cannot accommodate oversize vehicles. Have your driver from your group off in a designated area on the west side of Elliott Avenue before parking at an off-site lot.
Ballard (Hiram M. Chittenden) Locks
Address: 3015 NW 54th St, Seattle, WA 98107
Phone: (206) 780-2500
The Ballard Locks were established between 1911 and 1917 to efficiently transport boat traffic in and out of Salmon Bay. The complex water system was the first easily navigable way for logging and fishing vessels to travel between Puget Sound to Lake Union. Today, the locks are one of the most popular spots for visitors to watch the boats pass along the gorgeous water. The locks also feature a visitor center with informative exhibits about why and how the system was established.
Charter bus rental parking tip: Parking is free for all vehicles and designated bus parking can be found on the north and south sides of the Shipping Canal.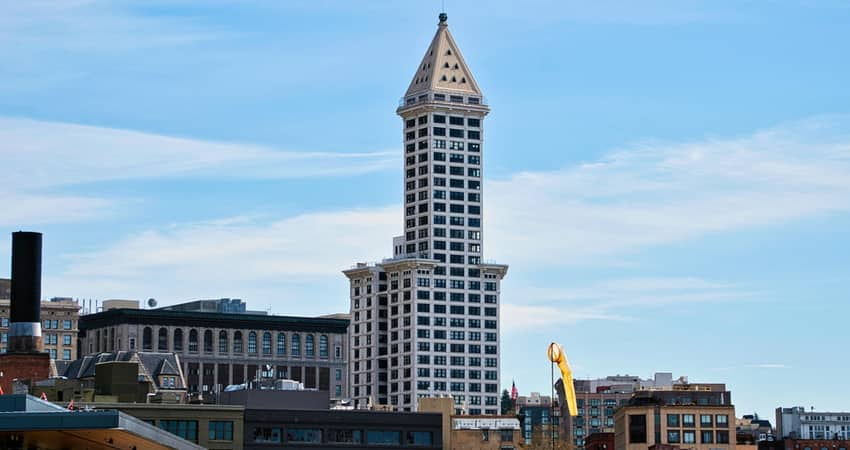 Smith Tower
Address: 506 2nd Ave, Seattle, WA 98104
Phone: (206) 624-0414
After its completion in 1914, Smith Tower stood as the tallest building on the West Coast until it was surpassed by the Space Needle in 1962. Smith Tower is the oldest skyscraper in Seattle and a must-visit for architecture or history lovers. The tower has an observatory on the 35th floor that can be accessed by the historic Otis elevators, complete with old-timey elevator operators. Groups can book guided tours of the tower and observatory in advance.
Charter bus rental parking tip: Parking for personal vehicles can be found in the Butler Garage but oversize vehicles will need to find street parking. Designated charter bus parking zones are available a short drive away at Pike Place Market.
Klondike Gold Rush National Historical Park
Address: 319 2nd Ave S, Seattle, WA 98104
Phone:  (206) 220-4240
This historical park isn't actually a park. It's a free museum that serves as a location to document Seattle's major role in the 1890s Klondike gold rush. The small museum is located in the heart of Pioneer Square in Downtown Seattle's historic Cadillac Hotel building. Pop in for a quick visit to look through exhibits and learn about how the gold pioneers shaped Seattle to become what it is today.
Charter bus rental parking tip: The historical park does not have its own parking lot. All parking is located in private lots or at metered spots on the street.
Seattle History Museums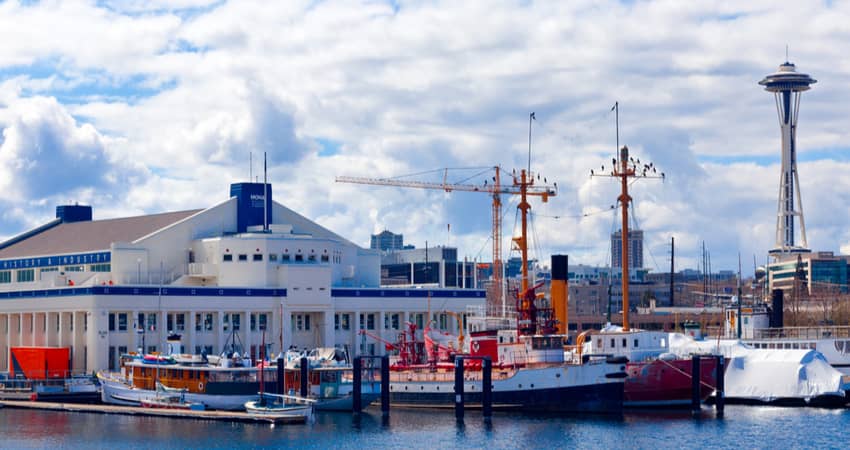 Museum of History and Industry (MOHAI)
Address: 860 Terry Ave N, Seattle, WA 98109
Phone: (206) 324-1126
The MOHAI focuses on the preservation and education of the many innovations that have come out of Washington state over the years. The museum is home to more than four million objects like Boeing's first commercial plane, ships from Seattle's maritime history, and artifacts from the 1856 Battle of Seattle. You'll also find exhibits on major businesses with roots in Seattle like Amazon, Nordstrom, Starbucks, and Microsoft. Adult groups can make a reservation for a self-guided visit, while schools and youth programs can take advantage of educational tours.
Charter bus rental parking: Bus drop-off is located in the city parking lot on Valley Street. Parking can be found at the Seattle Center about a 5-minute drive down the road.
Wing Luke Museum of the Asian Pacific American Experience
Address: 719 S King St, Seattle, WA 98104
Phone: (206) 623-5124
Located in the Seattle Chinatown International District, the Wing Luke Museum is the only community-based museum dedicated to the history of Asian Pacific Americans. The museum is named after Wing Luke, the first Asian American to hold elected office in the state of Washington. Exhibits cover the hardships many immigrants endured as they settled on the West Coast and explore the culturally-rich communities built over the years. The museum provides guided tours (included with admission) that take guests through sections of the building that once served as hotels for new immigrants. Additional tours for schools and private group tours can be booked online.
Charter bus rental parking: The museum does not have its own private parking lot. Metered street parking can be found throughout the neighborhood.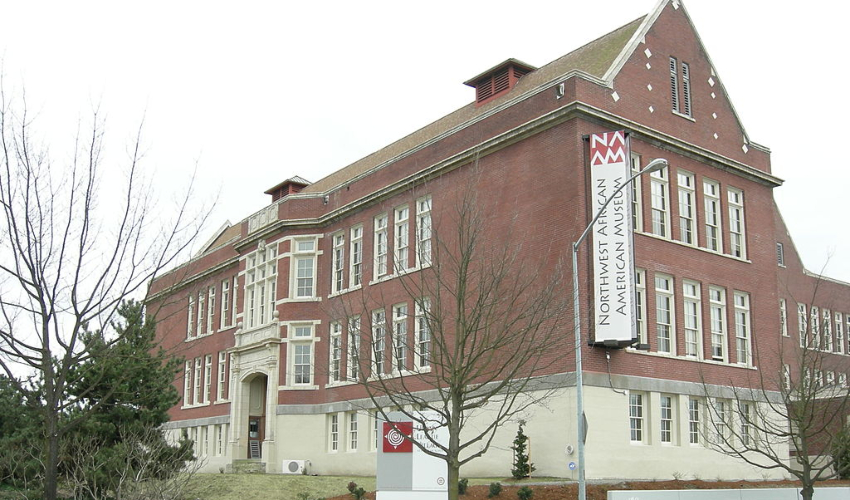 Northwest African American Museum (NAAM)
Address: 2300 S Massachusetts St, Seattle, WA 98144
Phone: (206) 518-6000
The NAAM shares the experiences and history of the African American community throughout the Pacific Northwest. Visitors will learn about important parts of Black history in the PNW, including rotating exhibitions about major figures like Jimi Hendrix and Jacob Lawrence. A large portion of the museum is dedicated as an art gallery space to display the work of local Black artists. The museum also hosts a variety of public events and education programs for both adults and youth.
Charter bus rental parking tip: The museum shares a parking lot with an affordable housing complex. Designated parking spaces are marked for the museum. You may want to call ahead to ensure oversized vehicles can be accommodated at the time of your visit.
Living Computers: Museum + Labs
Address: 2245 1st Ave S, Seattle, WA 98134
Phone: (206) 342-2020
If you're interested in the history of computers and technology, you'll definitely want to check out the Living Computers: Museum + Labs. This unique museum offers hands-on experiences with vintage computers dating back from the 1960s to the current era. You'll see devices like original drag and drop robots,  Xerox mainframe computers, vintage video game consoles, and a self-driving car simulator. The museum also offers a variety of youth educational resources to encourage and teach children new technology skills.
Charter bus rental parking tip: Parking at the museum is free, and oversized vehicles like charter buses can park on Utah Ave behind the building.
Explore Seattle History with a Private Bus Rental
Wherever your history-field group travels take you in Seattle, you won't have to worry about transportation when you choose Seattle Charter Bus Company. All you have to do is create your itinerary of must-see historic locations and give the rental team a call at (206) 257-3880. You'll get a free, personalized quote for yourS Seattle bus rental in no time!
Do you need to rent a charter bus?